Biscuit's family started fostering him when he was only a puppy and quickly fell head over heels in love with him. He was a foster fail in no time, and over the past year he's been the best dog anyone could ask for.
"He is very sweet, cuddly, and loves attention," Elisabeth Dunn Price, Biscuit's mom, told The Dodo. "He wants to be right in the middle of whatever is going on. He's basically a toddler."
Price is 36 weeks pregnant. She has hyperemesis gravidarum, a condition that's caused severe nausea throughout her pregnancy — and Biscuit can tell. From the first moment she got sick, Biscuit was right there by her side to comfort her. Price spends a lot of her time in the bathroom, and every single time, Biscuit is there, no matter what.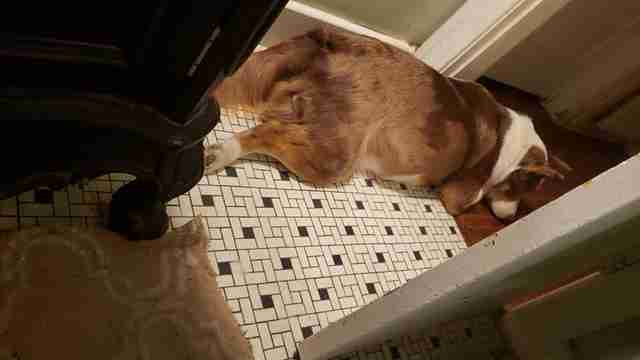 "It doesn't matter if I'm sick all night, he will stay by my side," Price said. "He won't sleep unless I'm in bed. He won't leave the bathroom to eat or drink. He stays with me, even if it's for eight to 12 hours at a time. He frequently doses off leaning against me, only to quickly awaken and resume his duty of watching me."
Price has started bringing Biscuit's food and water into the bathroom with her, because she knows that if she's in there, so is he, and he won't leave for anything. His mom was there for him when he was just a tiny puppy, and now Biscuit has decided that he'll always be there for her too.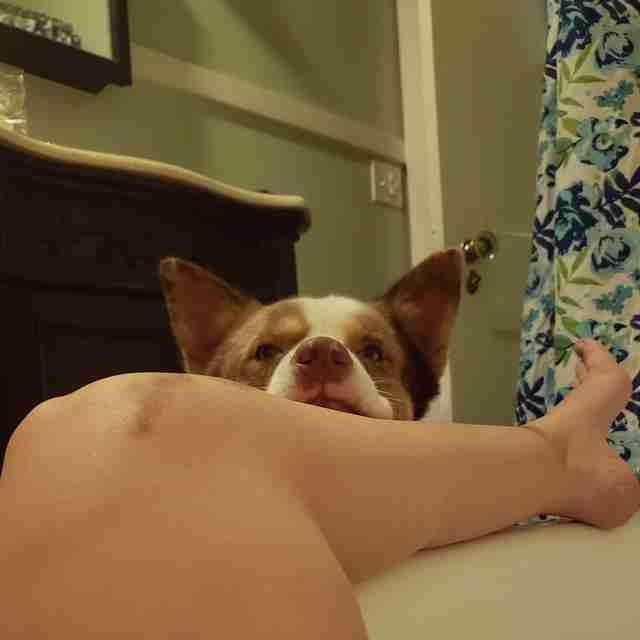 "He is my shadow," Price said. "He is always with me when I'm sick, day or night. Even when I'm not sick, laying in bed watching TV or something, he is pressed against me. He is always watching me even if he's across the room. I'm never out of his sight."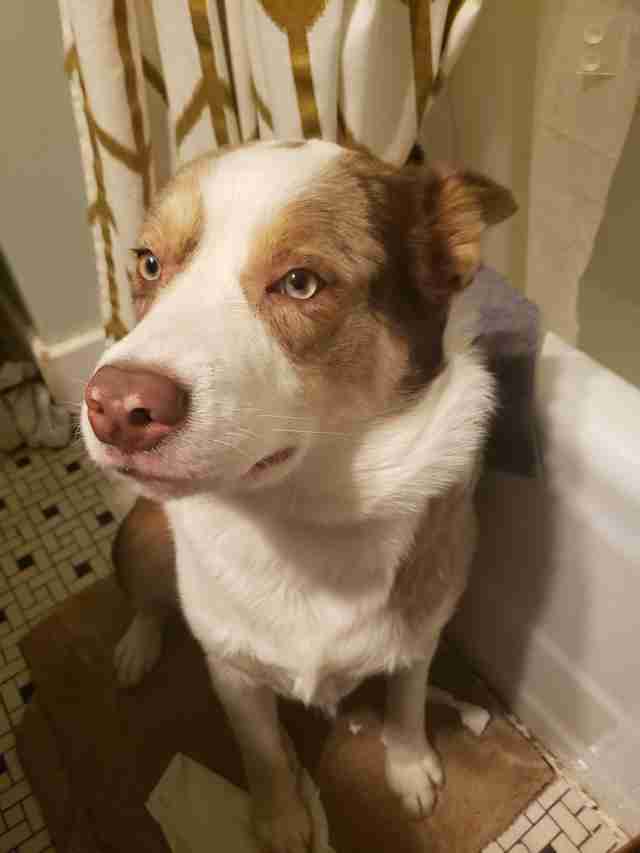 Price expects to give birth in about three weeks. She's so excited for Biscuit to meet his little brother, Noah, and knows that he'll protect his new brother always and forever — the exact same way he protects his mom.
"I think they will be best friends," Price said.